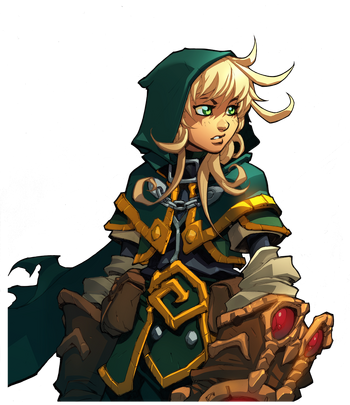 Battle Chasers: Nightwar is an American made JPRG and dungeon-crawler, based on the best-selling Battle Chasers comic series by Joe Maduriera and inspired by JPRG greats such as Final Fantasy, Suikoden, Chrono Trigger, and Phantasy Star. It was developed by Airship Syndicate, funded through Kickstarter and published by THQ Nordic. The game features beautiful environments; a gorgeously animated strategic turn-based combat system; and hand-crafted dungeon rooms which are randomly arranged for a different experience each time. Players will battle enemies, find secrets, solve puzzles and explore the world.
Battle Chasers: Nightwar released for PC, PS4 and Xbox One on October 3rd, 2017. A Nintendo Switch version is currently in development.
Setting
The Grey Line. An impenetrable wall of mist hovering over the West Waters, stretching endless from north to south, and towering from ocean crest to dark sky above. Nothing has ever come from, or survived entering, the historic monolith. The great hero Aramus felt a calling from the Grey Line and crossed, despite the dangers. And like countless warriors, vagabonds, fugitives and fortune seekers before him, never returned. Now, his daughter Gully and her unlikely band of Adventurers venture into the mist to uncover her father's mission.
Along the way they'll meet Friend and Foe alike while piecing together the silent history of the Grey Line, and the dark secrets within.
Game Features
Reception
External links